Sarah Wagner
ID# 1715, b. 4 April 1780, d. 16 October 1863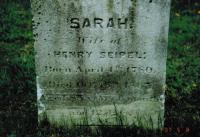 Sarah Wagner Seipel, wife of Henry Seiple (above), headstone in the Old Williams Church Cemetery in Williams Township, Northampton County, PA. Note the difference in spelling Seiple from her husband's headstone.
Marriage*:

Sarah

Wagner

married Henry

Seiple

, son of Conrad

Seipel

and Maria Caterina

Scheib

.

Birth*:

Sarah Wagner was born on 4 April 1780.

Death*:

Sarah Wagner died on 16 October 1863 at age 83.

Burial*:

Sarah Wagner was buried after 16 October 1863 at Old Williams Cemetery, Northampton County, Pennsylvania.