William Henry Seiple
ID# 5430, b. 2 March 1851, d. 13 February 1937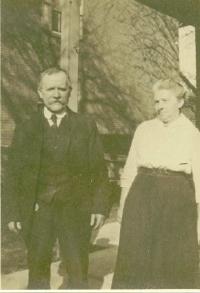 William and Amanda Seiple. Date taken is unknown, but judging from the clothing it can be reasoned that it was sometime in the late 1890's or early 1900's. William was a carpenter by trade. Contributor, Doris Norton states, " I remember in my childhood home we had a medicine cabinet that he built. In later years he worked for the Reading Railroad. He served for eight years as a member of the old South Bethlehem Borough Council and for six years was a member of the borough school board. He was a Democrat and was also a very patriotic man--actually knocking off with his cane, the hat of a man who had not removed his hat when the flag went by during a parade. My great grandparents raised my mother after her mother died when she was 7 years old."
Occupation*:

William Henry

Seiple

was a carpenter.

Marr-2nd*:

William Henry Seiple married second Anna

Becker

.

Birth*:

William Henry Seiple was born on 2 March 1851 at Hilltown, Bucks County, Pennsylvania.

Marriage*:

William Henry Seiple married Amanda

Muth

on 13 March 1873.

Death*:

William Henry Seiple died on 13 February 1937 at Bethlehem, Pennsylvania, at age 85.