John Siple
ID# 1773, b. 17 June 1818, d. 22 December 1895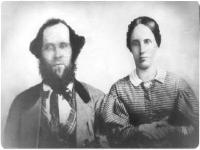 John and Harriet Cox Siple. The original photograph was taken in 1861 in Ashton, Illinois on the occasion of their daughter Rhoda's marriage to John A. Andrus in Ashton. John and Harriet are the great-great-grandparents of Roy Siple, who provided this picture.
Occupation*:

John

Siple

was Blacksmith.

Birth*:

He was born on 17 June 1818 at New Jersey.

Marriage*:

John Siple married Harriet

Cox

on 2 September 1838 at Sussex, Sussex County, New Jersey.

Death*:

John Siple died on 22 December 1895 at Cherokee County, Iowa, at age 77.

Burial*:

John Siple was buried after 22 December 1895 at Ashton Cemetery, Ashton, Lee County, Illinois.